REFLECTION ON JANIS JOPLIN

b. Jan. 19, 1943, Port Arthur, Texas, U.S.
d. Oct. 4, 1970, Los Angeles, Calif.

American singer, the premier white female blues vocalist of the 1960s, who dazzled listeners with her fierce and uninhibited musical style.

After an unhappy childhood in a middle-class family in southeastern Texas, Joplin attended Lamar State College of Technology and the University of Texas at Austin before dropping out in 1963 to sing folk songs and especially the blues in Texas clubs. After a long sojourn in San Francisco (during which she abused alcohol and amphetamines), she went back to Texas, only to return to San Francisco in 1966San Francisco in 1966 to become the vocalist for Big Brother and the Holding Company at the recommendation of hippie impresario Chet Helms. Buoyed by Joplin's raucous, bluesy vocals, the hard-rocking band released an album on independent Mainstream Records, then stunned audiences at the Monterey Pop FestivalMonterey Pop Festival in 1967 with a legendary performance highlighted by Joplin's rendition of "Ball and Chain" (a rhythm-and-blues classic by Big Mama Thornton). Big Brother's first album for major label ColumbiaColumbia, Cheap Thrills (1968), went to number one (the single "Piece of My Heart" reached number 12), and onetime ugly duckling Joplin continued her transformation into a strong-willed, sexually aggressive rock icon.

Leaving Big Brother, she formed the Kozmic Blues Band, reaching number five in 1969 with I Got Dem Ol' Kozmic Blues Again Mama!. Joplin and the band performed at WoodstockWoodstock but broke up shortly thereafter, and she became a regular heroin user. In 1970, engaged to be married, her life seemingly on track, Joplin was recording an album with her new group, the Full Tilt Boogie Band, when she died of an accidental overdose of heroin. Released posthumously, that album, Pearl, topped the chart in 1971, as did the single "Me and Bobby McGee." Joplin's importance in the history of rock is due not only to her strength as a singer but also to her intensity as a performer, which flew in the face of the conventions that dictated how a "girl singer" should act. Her raw blues-soaked voice--influenced by Thornton, Leadbelly, and Bessie Smith--was matched by her uninhibited physical movements. The two elements fused in a mesmerizing display of soulfulness few had thought a white singer could pull off. She was inducted into the Rock and Roll Hall of Fame in 1995.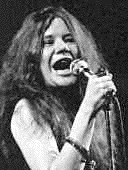 (C) 2001 - 2009 Joplin, LLC. ALL Rights Reserved

Webmaster